Tickets to UFC 152 in Toronto – which takes place September 22, 2012 at the Air Canada Centre – are now on sale, but the first shot has already been taken months before the first fight's even taken place.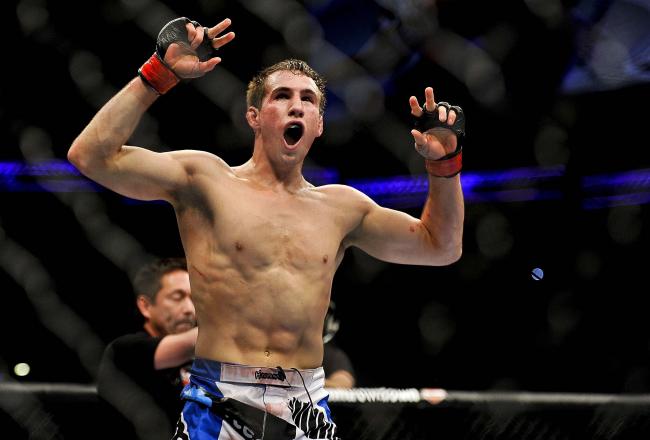 Earlier this week, up-and-coming welterweight fighter and Toronto native Rory MacDonald openly questioned fellow fighter BJ Penn's commitment to preparing for their scheduled bout at UFC 152:
From MMAMania.com:
"No, that's on him he is worried about TriStar. I don't care about that, I fight for myself and that's it. I am not worried about that. He is all upset because Georges whooped him, but, I am going to hurt him even worse, so. I am training for the best B.J. I am just preparing myself to be the best version. I am going to come out evolved, I am going to be in shape, explosive and exciting like I always do. I am going to be very technical and I am going to be on point. I don't know where B.J. is at. You know, he didn't even show up to this. He is dropping out of the VADA testing. Last time I saw him he looked really out of shape. I don't know where his head is at in this, but, he better get serious or I am going to hurt him very badly."
BJ Penn is coming out of retirement to face MacDonald, and this will be Penn's first UFC bout since getting pummeled by Nick Diaz in UFC 137. It's clear that MacDonald – one of UFC's brightest young stars – is taking this fight seriously; do you think Penn will show up to play?
MacDonald vs Penn is only one of many big-time match-ups scheduled on the UFC 152 fight card, which includes the flyweight title match between Joseph Benavidez and Demetrious Johnson, as well as the co-main event between middleweights Michael Bisping and Brian Stann.
Be sure to get your tickets for UFC 152 and catch all the action in the octagon this September live at the Air Canada Centre! At ShowTimeTickets.com, we've got your ticket in to the best events – We Are Never Sold Out!
(more…)