By Ryan O.
As soon as I found out Peyton Manning was going to sign with the Denver Broncos, I wondered what team would trade for Tim Tebow? The one team that I thought made sense was the Jacksonville Jaguars because Tebow is from that area, Jacksonville is in need of a player that will help sell tickets, and the Jaguars are a team that Tebow could actually start at QB for.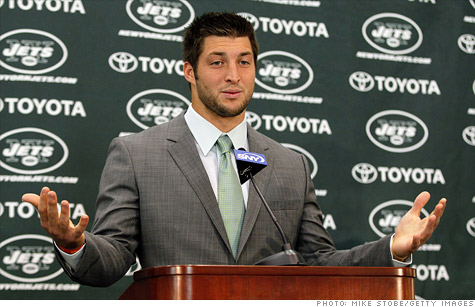 When I found out the New York Jets traded for Tim Tebow, I was a little surprised because they had just signed QB Mark Sanchez to an extension, and announced him as the starter right after trading for Tebow. This doesn't make sense for a couple of reasons. The first one is Tim Tebow can't throw, so you need to run a completely different offense when he's on the field, or a very simple one that you can bring him in to the game as a change of pace guy. The other reason is because New York sports fans are some of the most fickle fans in the world. If Sanchez so much as throws a pick, the fans are going to start calling for Tebow… That could have an effect on Sanchez's confidence, especially if they start subbing him in and out of games.
The only reason I see the Jets trading for Tebow is to try and make the front page in New York. I don't think I've ever seen another team hold a press conference for a backup QB.
Tim Tebow isn't good enough to be a starting quarterback in the NFL. And to have him as a backup, you almost need to have a whole different playbook for him to run the offense. For the New York Jets, I think he is nothing more than a starring publicity stunt.
What do you think about the Tebow trade? Will he enjoy the same success as a backup QB in New York? Or is he just another sideshow on Broadway?
No matter what team you root for, ShowTimeTickets.com has tickets for all NFL games; we are never sold out! Check out our website or call us toll-free (1 800 480 SHOW) and one of our Entertainment Consultants will get you to the big game!